Dentists directory Greece
Welcome to dentists.gr the site where you can find a dentist in Greece as well as a heap of information about dentistry and dental procedures.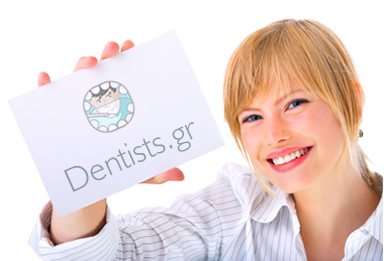 This site provides all patients with the appropriate information to find a dentist in Greece, book a flight to Greece, get transport from the airport to your hotel, find a hotel suitable to your needs, and book an appointment with the dentist you have chosen.
There is also information on all the new procedures in dentistry to keep you as best informed as possible.
Please feel free to contact us if you have any questions regarding dental procedures including finding a good cosmetic dentist in Greece, dental tourism in Greece or get emergency dental care in Greece.

Our dentists odondiatron directory of dentists in Greece is great for finding a dentist for cosmetic dentistry, tooth and teeth whitening or bleaching and implants. Dentists in our directory can also perform procedures such as creating dental veneers, crowns, implants, white fillings, root canal therapy and more.
Take a european cosmetic holiday, go on european greek dental holidays in greece, or find a cosmetic specialist dental surgeon in greece or use our dentist finder directory of dentists in greece.
If you have any questions or comments, or need any help or advice using our site, please do not hesitate to contact us.
Kind regards,
The Team at Dentists.gr